Open Championship
---
---
1860: Prestwick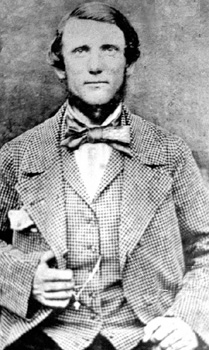 ---
A contemporary newspaper account tells us, 'Recognising the desirability of providing some annual test to gauge the comparative merits of professional golfers, the Prestwick Club, with characteristic enthusiasm and liberality, lately subscribed for a Challenge Belt, open for competition in the three kingdoms. The Trophy, which consists of red morocco is am exquisite piece of workmanship, richly ornamented with various devices in silver.'

Colonel (then Major) J O Fairlie of Prestwick had been urging a national tournament for professionals for several years but the R&A was unreceptive. Perhaps the final spur to Prestwick, to organise it themselves, was to find a worthy successor to Allan Robertson who had died the previous year. The Prestwick club commissioned a Championship belt of red leather and silver and offered it for competition with the belt to become the property of any competitor winning it three times in succession. The tournament was for professionals only, 'known and respectable caddies', and invitations were issued by Old Tom Morris, then keeper of the green at Prestwick. There was no prize money and entrants would have to pay their own expenses to come to Prestwick so it is not surprising that only eight made the trip.

Unfortunately those eight professionals who did play in the first Open hardly set the heather alight with their play, one taking 232, or sixteen over sixes for the three rounds of 12 holes. Old Tom Morris with his local knowledge was expected to prevail. However, an unusual amount of time spent in bunkers thwarted him and the title went to Willie Park Snr of Musselburgh.

For those who watched the interminable rounds at St Andrews this year (2000), consider that the first Open started at noon and all competitors had completed their three rounds of 12 holes before dark on an overcast day in October.