Clubmakers
---
Tom Morris
St Andrews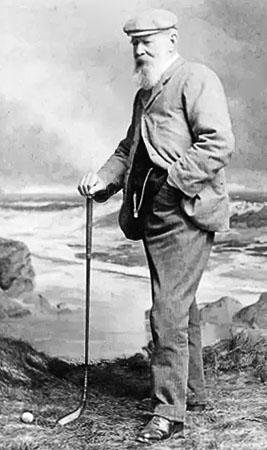 Old Tom died, aged 87, in 1908, golf's first superstar, winning four of the first eight Open Championships. He finally stopped competing in the Open at the age of 75.

He was apprenticed to Allan Robertson as a ballmaker and probably started making clubs, as a sideline, when a professional at Prestwick in the 1850s. He also partnered Robertson in doubles, their most famous victory against the Dunn brothers over three courses in 1849. This was played for a stake of £400, a fabulous amount, and after being one game apiece after the first two legs at Musselburgh and St Andrews. Morris and Robertson came from four down with eight to play to win by two holes.

He and Robertson quarrelled over the introduction of the guttie ball and Morris moved to Prestwick in 1851. He was brought back to St Andrews as greenkeeper by the R&A in 1865 and was later made professional, a title he kept throughout his life.

He opened his shop in St Andrews in 1867. Look out for a full feature on Old Tom in the next few months.

Search the catalogue for clubs by this maker