Open Championship
---
---
1914: Prestwick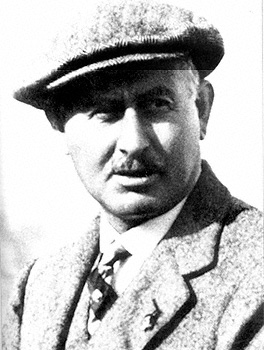 ---
Vardon led after the first two rounds with 150, a shot ahead of James Ockenden and two ahead of his main rival, J H Taylor.

Vardon had a 78 in the third round which allowed J H Taylor, with a 74, to go into the final round with a two stroke advantage.

They were drawn together for that round and Taylor increased his lead to three on the first hole. On the third, perhaps distracted by a photographer, Taylor dropped a shot to Vardon and it all began to go horribly wrong for him. On the fourth he was in the water and there was a three stroke turnaround giving Vardon a one stroke advantage. He gained another two shots before the turn and then one more at the 10th and 11th, Taylor rallied but, in the end, it was a comfortable margin of victory for the record Open Championship winner.

Definitely a new era, the short Pathé film is believed to be the first footage of the Open Championship. It was the 44 year old Vardon's sixth and final Open win: what a different world it was by the time the tournament was next played in 1920.