Open Championship
---
---
1912: Muirfield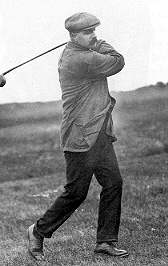 ---
Between 1898 and the First World War, this was one of only four Open Championships not won by a member of the Great Triumvirate of Braid, Taylor and Vardon.

After the qualifying competition there were great hopes, especially in his native Aberdeenshire, for George Duncan who dominated the first section at Muirfield establishing a record of 73 for the altered course. In the end he finished fourth and had to wait until after the war for his victory.

The championship was largely won in the third round. Ray had a three stroke advantage over Vardon and was a further shot ahead of Braid going into this. He went out in 36 while Vardon took 44. By the end of the round Ray led Vardon by eight. James Braid started his third round badly with three fives but rallied on the back nine with threes at fourteen and fifteen. A pull into the rough at the last meant a five and second place, five strokes adrift of Ray.

It was not a lead Ray was going to squander. On the outward nine of his final round he was in five bunkers but had no problem escaping from them. He finished with a 75 and had won his qualifying section and led after every round.