Clubmakers
---
Tom Williamson
Bulwell Forest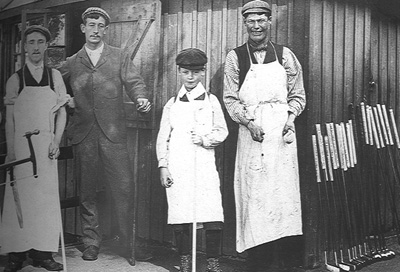 Born in Grantham in 1880, son of Edmund Williamson and his first wife, Sarah, he came to Nottingham as a child and served the Bulwell Forest club there for his entire career, starting as the county's first caddy at the age of seven.

As a member of the Artisans Club, he won their challenge cup as a fifteen year old then won it again before going to North Berwick to learn clubmaking from James Hutchison.

At the age of 16 he was appointed professional to Bulwell Forest and entered the Open Championship for the first time the following year. He played in the Open on more than forty occasions, finishing eighth in 1899 as a teenager, seventh in 1907 and 1913 and fourth in 1914. He played nine times for England against Scotland between 1904 and 1913, losing only one match, and captained the team in 1909.

His brothers, Edmund and Hugh were also professional golfers and their father, another Edmund, became one later in life.

He was professional at the Nottinghamshire club first at Bulwell Forest then at its new home in Hollinwell for more than 50 years and died in 1950.

Search the catalogue for clubs by this maker