Rangefinder Bunny putter
Maker: Donaldson Manufacturing Company , Glasgow
Date: 1927

Of the myriad putter designs over the years, this is my absolute favourite. The most famous product of this Glasgow company, it was popular in its own era also as they continued to make them, with steel shafts, well into the 1930s.

This however, is one of the original hickory shafted models with "Rangefinder Made in Scotland" stamped on the straight hickory shaft. The grip is not a thing of beauty, polished burgundy leather (typical of Donaldson's in the 1920s with a rubber insert building up the "bell end") so probably original but having faded in sunshine (must have been somewhere other than Scotland!) to a variety of colours.

It has a stainless mallet head, joined to the shaft via a tiny 1.25" hosel, with a brass face plug identifying the sweet spot and a .75" cylindrical brass insert through the head with the Rangefinder registration mark on the crown and the bunny, from which the club takes its name, disappearing into a hole on the sole.

A "Bunny" is an absolute must for any representative collection and a superb gift (I've given myself a few over the years!).
Price $340.00
Reference: PUT442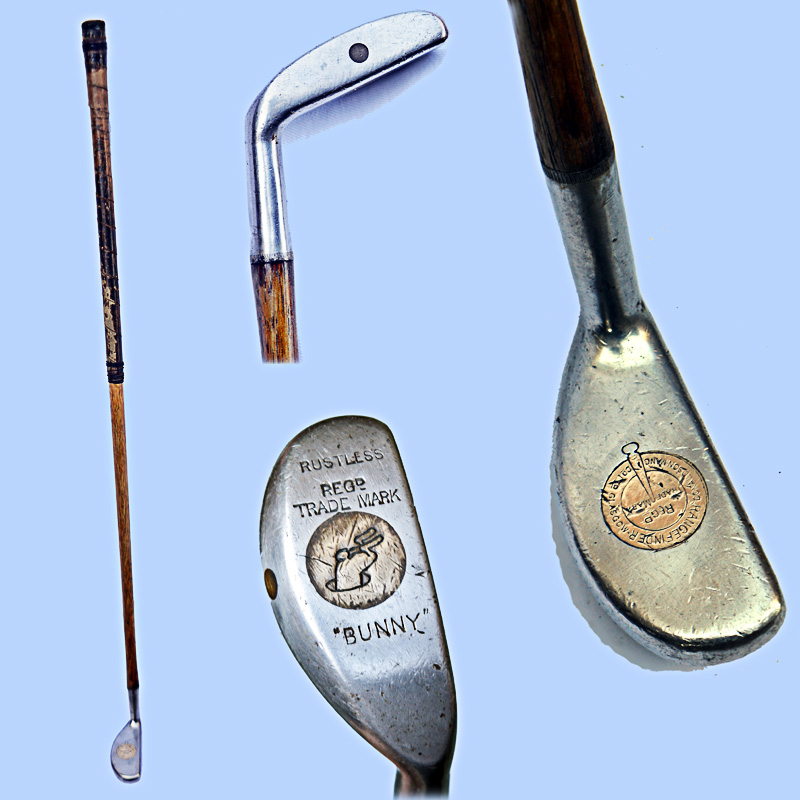 Click on the image to view it full size