Clubmakers
---
Donaldson Manufacturing Company
Glasgow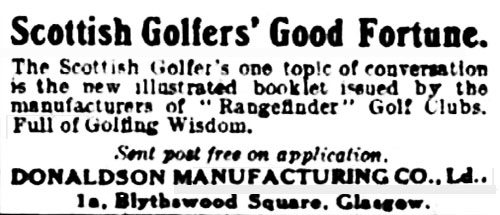 They were active from around 1922 until the company was liquidated in 1935. The most notable brand was the Rangefinder series. A very late collectable from this firm is the Rangefinder-Rapier series from 1929 onwards (as soon as the steel shaft became legal) with interchangeable threaded socket shafts but interesting shaped clubs and patents came from their premises at 1a Blythswood Sqaure with great regularity.

The two piece clubs with interchangeable head and shaft featured in Time Magazine in 1932, and there were patents for ovoid shafts, tools to remove broken shafts and metal adaptors to make it easier to fit steel shafts to wooden heads along with prosaic inventions for draught excluders, roller blinds and improved sash windows.

The company was in liquidation in 1935 but offered for sale as a going concern. Presumably it was bought as it was still active after the Second World War and responded to a meeting set up in the wake of a poor performance by Scottish professionals in the 1947 Open by donating to a fund to help professionals earn a living in Scotland. They also contributed following pleas to fund a larger prize at the Ulster Open in 1952.

Search the catalogue for clubs by this maker