Late long-nose putter
Maker: Robert Simpson , Carnoustie
Date: 1925

A long-nose putter made during a revival period from them in the 1920s from Robert Simpson whose company was making the originals in the early 1890s. It is very much in the style of the early putters the head being formed from a fine piece of beech rather than persimmon and not being varnished, simply being loaded with oils. The crown is stamped "Simpson Carnoustie Hand made". It has the traditional long horn slip on the sole fastened with three hickory dowels.

The hickory shaft is straight and stamped with Simpson's information also. There is another twist on early golf club fashions in the grip. It is thick brown leather above cloth listing but the whipping continues all the way up the grip (as was common with the earliest grips) fitting in between the edges of the leather. This makes for an interesting display item but is quite infuriating for play as the loops keep coming out of the gaps !
Price $780.00
Reference: PUT396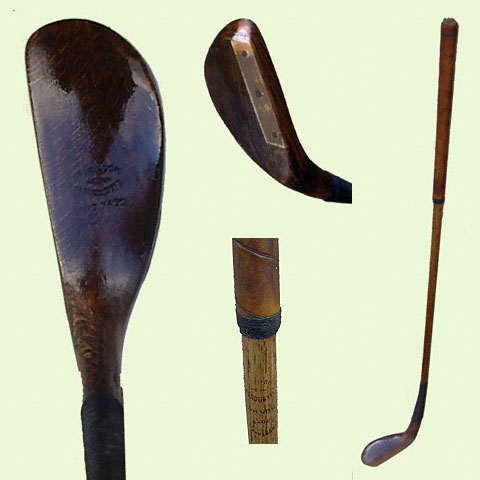 Click on the image to view it full size