Clubmakers
---
Robert Simpson
Carnoustie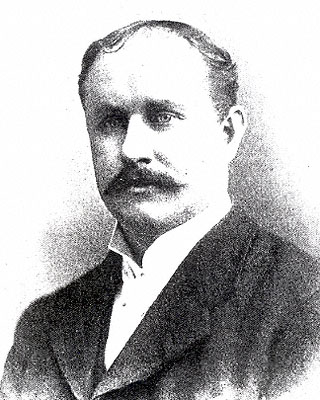 One of the really great clubmakers, he was born in Elie in 1862 but is associated more with Carnoustie where he was the professional between 1891 and 1898 and where he established his clubmaking business sometime before this. He began his clubmaking apprenticeship aged 16 with George Forrester and, on it completion, went to work for Robert Forgan in St Andrews. Although not yet 21, he applied for the position of clubmaker with the Dalhousie Club and, out of forty applicants, was successful. He was soon joined in the business by two of his brothers Jack and Archie

William Honeyman writing of Bob and Archie in Bauchope's Golfing Annual of 1888-9, comments that they 'have their place of business inside the Dalhousie Club House ground, and are much esteemed for their obliging disposition, steadiness, and excellent workmanship'.

He died in 1923. Renowned for his bulger clubs, a slightly shortened and widened driver, designed so that a ball hit not quite on the sweetspot could still fly straight. He was also a maker of compressed woods. In irons he was known for the "ball face" sweetspot scoring on his irons. Perhaps his most exotic creation was clubheads made in the 1890s from papier-mache. I've never seen one of these but, then again, it has been known to rain in Carnoustie.

Search the catalogue for clubs by this maker