Clubmakers
---
Robert Simpson
Carnoustie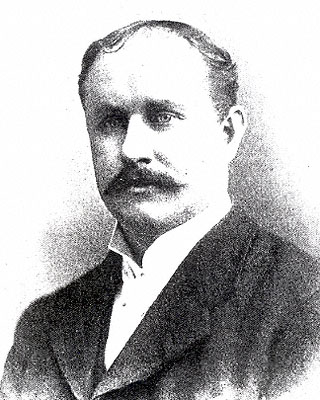 One of the really great clubmakers, he was born in Elie in 1862 but is associated more with Carnoustie where he was the professional between 1891 and 1898 and where he established his clubmaking business sometime before this. He began his clubmaking apprenticeship aged 16 with George Forrester and, on it completion, went to work for Robert Forgan in St Andrews. Although not yet 21, he applied for the position of clubmaker with the Dalhousie Club and, out of forty applicants, was successful. He was soon joined in the business by two of his brothers Jack and Archie

William Honeyman writing of Bob and Archie in Bauchope's Golfing Annual of 1888-9, comments that they 'have their place of business inside the Dalhousie Club House ground, and are much esteemed for their obliging disposition, steadiness, and excellent workmanship'.

He died in 1923. Renowned for his bulger clubs, a slightly shortened and widened driver, designed so that a ball hit not quite on the sweetspot could still fly straight. He was also a maker of compressed woods. In irons he was known for the "ball face" sweetspot scoring on his irons. Perhaps his most exotic creation was the so-called papier-mache clubheads, covered by patent 21475 made from hornite, a hard vulcanised fibre made from compressed paper and resembling horn. The patent was not for the material itself but rather the process by which it was made. A rough shape was cut out of the hornite sheet and soaked in boiling water for ten minutes to make it pliable. The head was then placed in a press 'like a letter copying press' (a device invented by James Watt of steam engine fame in 1780 where letters were copied by pressing them against a sheet of wet tissue with a sheet below to receive the released ink) and bent to the desired angle. The head was then left in the press for a further twenty minutes then transferred to another machine with pegs holding the bent head for around a week while it dried out.

Hornite was designed to be stained and varnished like wood and hold a lead backweight and, where necessary, a brass soleplate, yet be 'stronger and more durable' (Scotch beech being notorious for splitting) and so not to need a horn slip to protect the sole.

Durable or not, it has been known to rain on occasion in Carnoustie and the moisture caused the necks to flatten out again so there are not many of these clubs around.

Search the catalogue for clubs by this maker