Notched hosel putter
Maker: Thistle Golf Company , Glasgow
Date: 1914

A clubhead which bears a close resemblance to the Genii patent taken out by Hugh Logan but giving no acknowledgement of the fact. The hosel is "notched" so that the loft and lie of the blade can be adjusted for the individual player.

The face has an enclosed hand-punched dot pattern. The reverse is stamped with "Thistle Brand Reg'd" and the thistle mark of Charles Millar. He did not sell these only through the Thistle Golf Company but this one is stamped with that company name within an oval. It is also marked "Putter" and "Warranted Hand Forged".

It is not marked as a ladies' club but the smaller head and shorter, lighter hickory shaft suggest that is what it is. The russet sheepskin grip is a replacement. The original green listing below peeps through the gaps.
Price $160.00
Reference: PUT381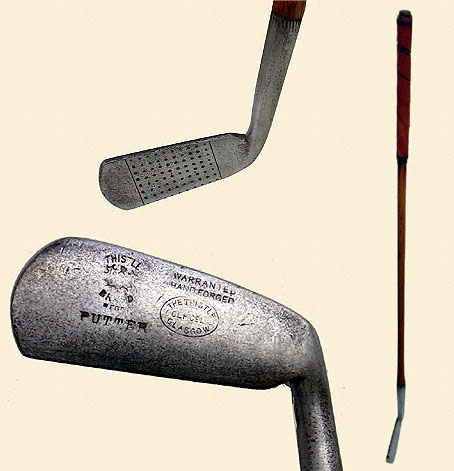 Click on the image to view it full size