Ladies' mid iron
Maker: A G Spalding & Bros , London/Edinburgh
Date: 1907

The Gold Medal range is not uncommon but this one is marked with the anvil cleek mark as one would first assume it was made in Dysart. The sole, however, is marked "Made in England" so it must have come from the Putney factory in London which is unusual.

Anyway, for those not obsessed with Spalding minutiae ! The club is an early one in the Gold Medal range, a ladies' mid-iron, model A (so stamped on the sole). The face has six enclosed rows of widely spaced dots. The reverse, very clearly stamped has "L" for Ladies, (US models, less gallantly, have "W" for women) "Hand Forged", "Spalding Gold Medal" in an oval and the anvil cleekmark. Where the hosel meets the shaft is an attractive angled milling.

The hickory shaft is straight and, unusually for a club of this late vintage, the tan grip is built up by coarse woolen listing below.
Price $105.00
Reference: LIR315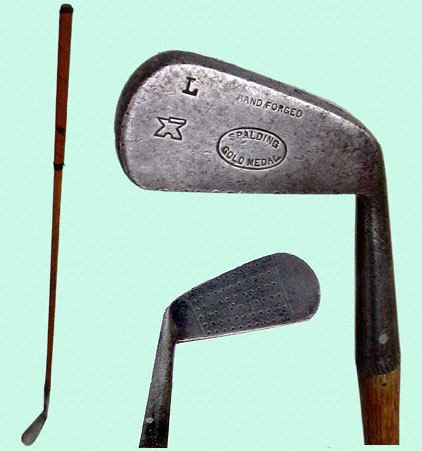 Click on the image to view it full size