Clubmakers
---
A G Spalding & Bros
London/Edinburgh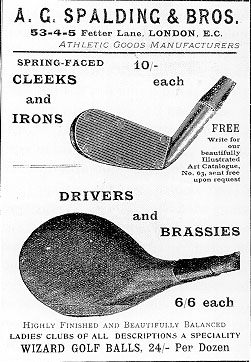 An American company, Spalding entered the British market at the turn of the century with large stores in Edinburgh, London, Birmingham and Manchester selling a wide range of sporting goods.

Although some golfing equipment was imported from the US, they established a factory in Dysart, Fife, to forge iron heads and Spalding irons made here can be recognised by an anvil cleek mark.

See the extended article on Spalding in the history section.

Search the catalogue for clubs by this maker