Spalding "Gold Medal" Ladies Mashie
Maker: A G Spalding & Bros , London/Edinburgh
Date: 1926

A well-preserved example of a mashie from this popular Spalding range of clubs. The face has an enclosed dot pattern and the reverse a wide range of stampings. The anvil mark shows it was made in Spalding's Scottish factory in Dysart, Fife, and the "L" above it confirms that the slightly smaller head was a ladies' version. It may well have been destined for export back across the Atlantic, though, as the heavy flange is stamped "W5", the "W" for Woman, as was characteristic on US clubs, and the "5" an early, and certainly non-standard, club number for the mashie. It never made the journey (unless it came back again) because this club came from an attic in Edinburgh.

It is also stamped with the model name, "Gold Medal", "Mashie", "Average Distance 130/140 yards" and "Hand Forged". The original hickory shaft is straight and is topped with what is probably the original black leather grip.
Price $110.00
Reference: MA243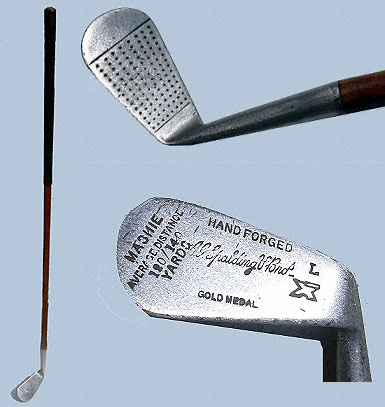 Click on the image to view it full size