Logan scareneck juvenile brassie
Maker: Hugh Logan , London/Glasgow
Date: 1902

A very elegant and well-made juvenile club from Hugh Logan either while he was clubmaker to the London Scottish club in Wimbledon or before he left Prestwick. The scare is cut into a very narrow head resulting in a join not much broader than a socket head. The dark beech head has "H Logan" picked out in gold paint on the crown and has a full brass soleplate secured by six screws. There is a black ebonite slip in perfect original condition.

A thin golden hickory shaft ends in a suede grip in very good condition but apparently original.

Juvenile clubs are becoming increasingly popular with collectors and this is a fine early example from a noted clubmaker considered good enough by his peers to be a judge at the London Exhibition of 1903.
Price $350.00
Reference: B234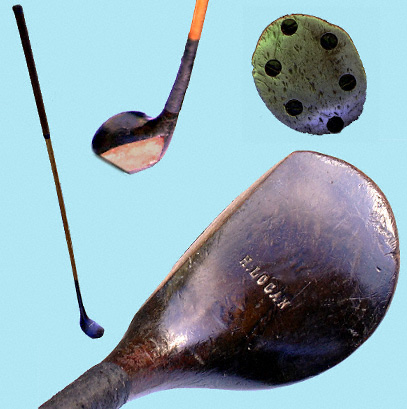 Click on the image to view it full size