Winton Juvenile Mashie
Maker: William Winton , Montrose / London
Date: 1923

A boy's club from Winton of Montrose's London factory established in 1911. (This is where Bobby Jones's Calamity Jane putter was first made).

This is quite a heavy club for a boy, the face with an enclosed square dot pattern and the reverse with a myriad of stampings: "Rustless Iron", "Hand Forged", "Warranted", "Special". "W Winton (in signature" London", the Winton diamond cleekmark and a "B" in a circle to show it is a boys' club. It also has "Wm Page" in signature. He was the pro at the Didsbury club for 45 years from 1909.

The hickory shaft is straight and has a minor chip repair just above the hosel. The suede grip is intact and almost certainly original.
Price $95.00
Reference: MA217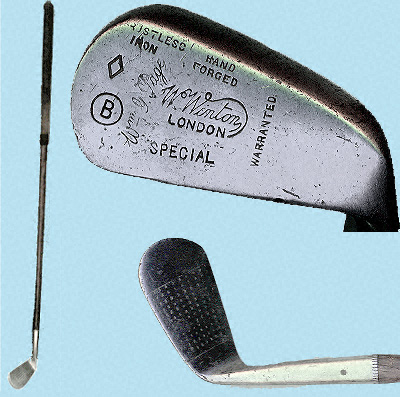 Click on the image to view it full size