Spalding "Duncan Model" Driver
Maker: A G Spalding & Bros , London/Edinburgh
Date: 1920

A very nice example of this patented club in a ladies' version. The patent is for a one-piece brass soleplate and backweight and the patent date of November 18, 1919 is stamped on the sole. The crown has the Spalding name in stripe-top form and is also stamped with the owners' initials "HGS". Black wooden face insert secured by three screws. Unusual plastic sheath covering socket join to head. Original shaft and apparently original grip, built up to a prominent bell-end.

The club takes its name from George Duncan, son of a village policeman in rural Aberdeenshire, Open Champion in 1920 and, it could be claimed, the father of the Ryder Cup. There had been an American team anxious to test the strength of its players against the best of the British in 1921. A match was played at Gleneagles which the Americans lost 9-3. Another informal match was played at Wentworth in 1926 where the British triumphed 13.5-1.5. This match was put together by the seed merchant Samuel Ryder. George Duncan suggested to him that the two countries compete on a regular basis for a trophy to be donated by Mr Ryder. He readily agreed, underwrote the expenses of the Great Britain and Ireland team for travel to the first official match at Worcester, Ma., in 1927 and commissioned the golden chalice which bears his name.
Price $240.00
Reference: D223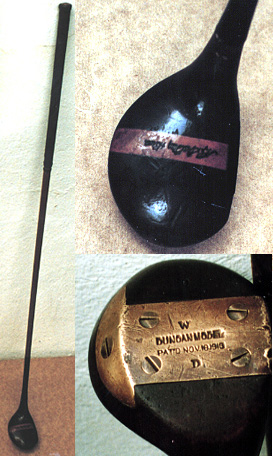 Click on the image to view it full size