Whippet long-hoselled putter
Maker: George Nicoll , Leven
Date: 1926

Long-hoselled putters are always popular with collectors and the Whippet model from Nicoll of Leven seems to be one of the favourites. It is not hard to see why. Putting is the element of the game most amenable, in golfers' minds at least, to technological 'fixes' probably because a wayward drive will probably be forgotten before the end of the round but the missed tiddler on the green will gnaw for a long time. The technology sell here is that the long hosel transmits the "feel" of the putt better and, as wings were added to early aeroplanes, hosels were elongated finding their wildest extremes in Hendry and Bishop models. Secondly the club is undeniably attractive, the long thin hosel and the long narrow head are a nod to art deco design which was conquering all fields at the time.

The face, 4¼" long and 1 1 ?8" at its widest has an enclosed ray pattern. The reverse has a later Nicoll "Hand of Friendship" cleekmark above "Whippet Putter" (in caps). It is also stamoed "Hand Forged in Scotland" with "George Niicoll" (in signature) and "Leven, Fife Scotland" (in caps).

The hickory shaft is perfectly straight and is finished with a replacement brown sheepskin grip.

A very attractive club in excellent condition with clear stampings. A great club for wither play or display and which, I am sure, would make a well received present.
Price $175.00
Reference: PUT492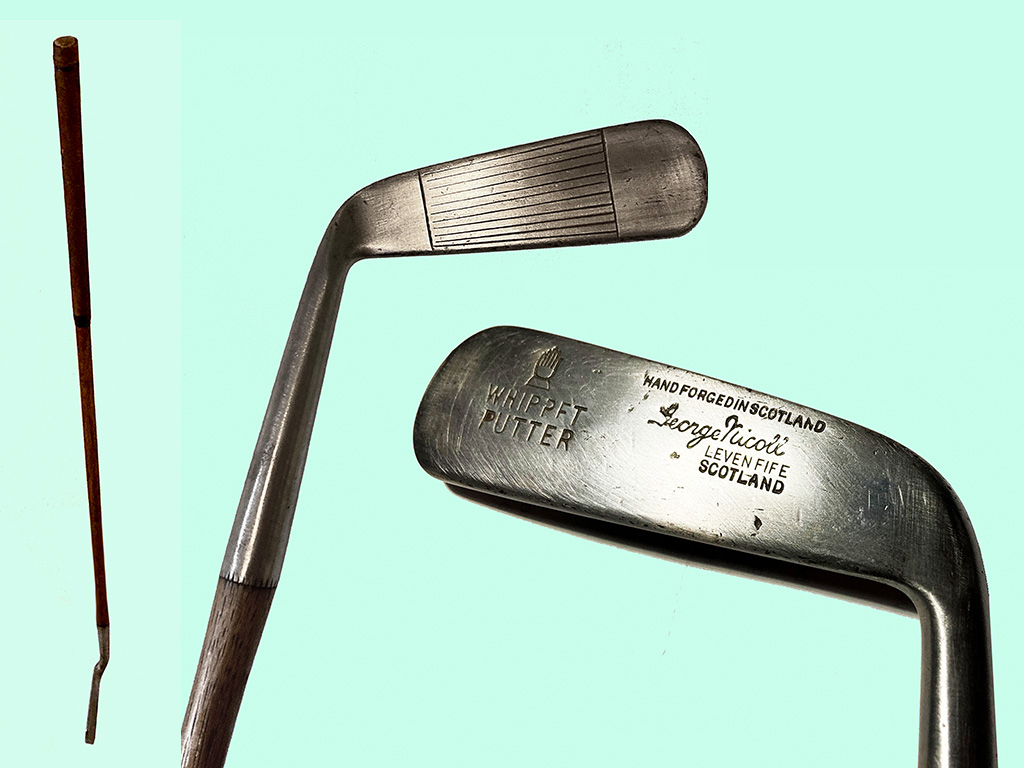 Click on the image to view it full size