F G Tait Putter
Maker: George Nicoll , Leven
Date: 1926

Not many amateurs had their names associated with clubs, Francis Ouimet, Bobby Jones and Joyce Wethered come to mind. Nicoll's use of F G "Freddie" Tait's name for a club design in the late 1920s is even more remarkable given Tait had been dead for a quarter of a century, killed in the Boer War at Koodoosberg in 1900, when this one was produced. It testifies to the affection with which the sportsman and soldier was held in Scotland probably unmatched for an amateur until the arrival of Bobby Jones on our shores.

Tait used a cleek from Nicoll as a putter in winning his two Amateur Championships and Nicoll produced versions of it for more than 30 years. This, one of the later versions, has an enclosed dot face. The reverse is stamped with "The F G Tait" (in script) by the toe, "Putter" beside Nicoll's hand cleekmark, and "Hand Forged in Scotland". It is also stamped "Arthur Hancox Sandwell Park" in oval form around a pretzel, presumably a "false cleekmark" for the long-serving professional (qv) at Sandwell Park in West Bromwich.

It has a long (5") tapering hosel in accordance with one of the theories of the time that a long hosel transmitted "feel" to the player.

The golden stained hickory shaft has a very slight backward bend, the way a shaft should bow if it has to according to the old clubmakers who set their shafts accordingly, but a long way from the so-called "St Andrews bow" dealers, with much artistic licence, sometimes claim for their wares.

The club is topped with a replacement sheepskin grip.
Price $195.00
Reference: PUT480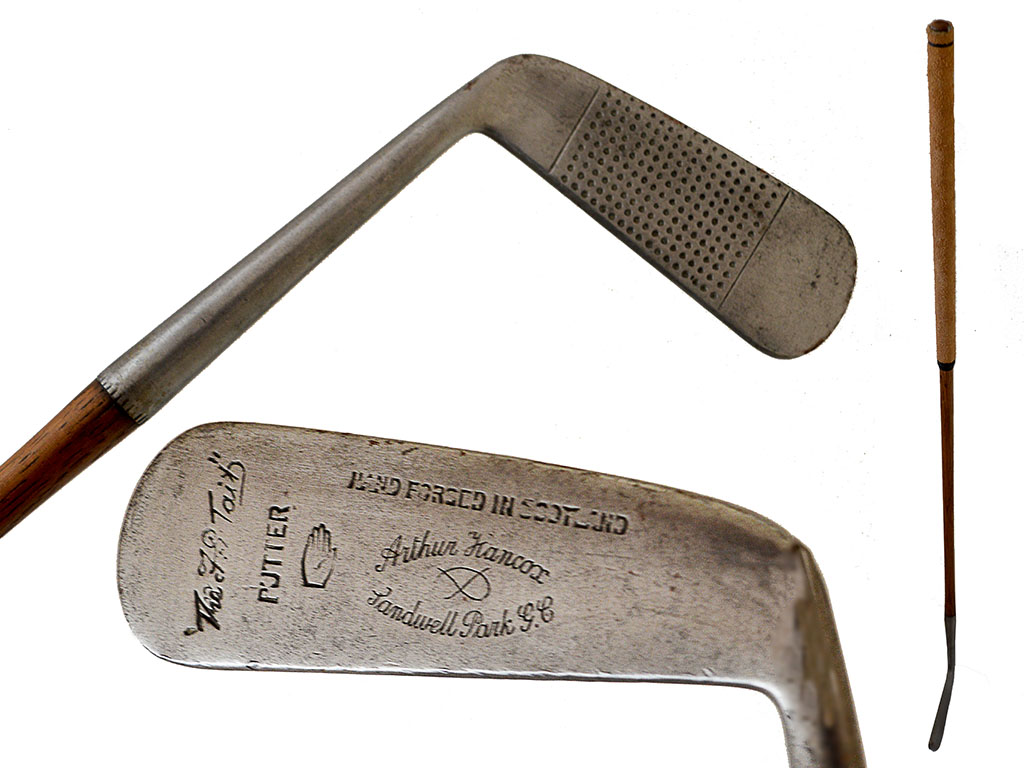 Click on the image to view it full size