Augusta Christmas ornament

Date: 1995

What do you give the golfer who has everything at Christmas? Well surely he or she does not have this, yet someone must have bought it otherwise it would not be here. To my amazement there are, in fact, quite a few of these ornaments for sale online, albeit from more recent years than this one.

It is a three dimensional design, the back disk reads "Augusta Georgia", "America's Golf Capital" with a golfer lining up a shot with the Augusta National clubhouse in front of him and the year, 1995, stamped below.

Should you start ordering this ignore the shipping charge of $45. That is for a club and is about half of what it actually costs us to send because of the volumetric weight. This will be cheaper and I will get back to you by email with an 'at cost' price before your card is charged.

On the front layer is a golfer in traditional dress (i.e. before, in Tiger Wood's words, golfers became white men dressed like black pimps), 'bunnet' (flat cap) and plus 4s.

It is very shiny, something a magpie would cherish, and, according to the original packaging from the makers J B White, with a 24 carat gold finish.
Price $75.00
Reference: MEM337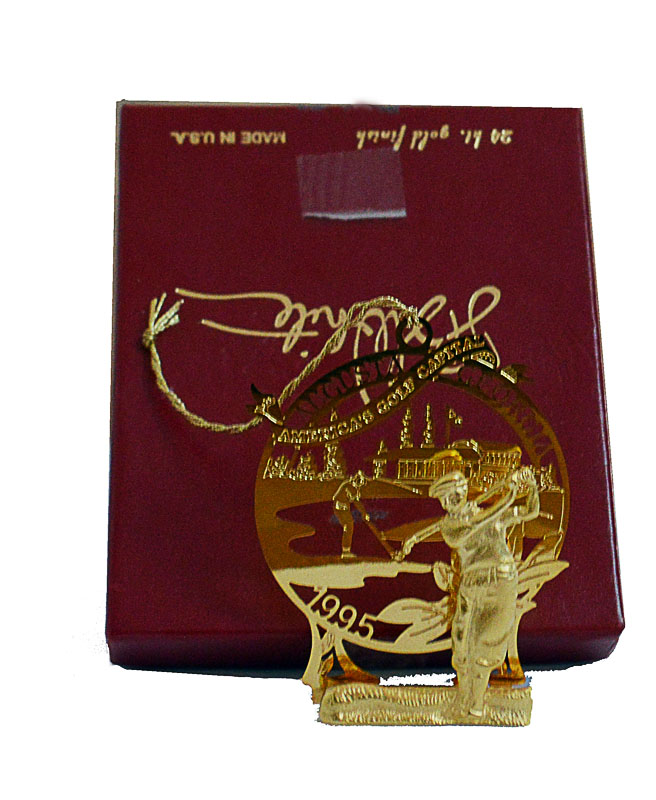 Click on the image to view it full size