Display juvenile driver
Maker: Percy Hills , Harrogate/Gosport etc
Date: 1926

Nominally this is a juvenile driver (with a 30" shaft) but I cannot believe any bairn was ever dispatched to the links to smite a ball with this. The extra bands of whipping are fine tuning beyond the bounds of credibility in changing shaft rigidity and are, I suspect, purely aesthetic. The club, therefore, gives the impression of an 'apprentice piece' to show the necessary aspects of clubmaking had been learned as the apprentices a generation earlier had made Sabbath clubs.

And it is a fine piece just the slight double strike when adding the maker's name (or the maker's boss's name, Percy Hills, when at the United Service Club in Gosport from the mid-1920s). So easy to do and so frustrating as it is the last act of manufacture, I am happy the club was not smashed in frustration and provides a wonderful christening gift on the birth of a fellow golfer's son or daughter (ignore the nonsense from your wife about apostle spoons).

It has the characteristic mid-1920s 'striped' persimmon head, fibre slip and a neat lead backweight and is in excellent display condition.
Price $230.00
Reference: D353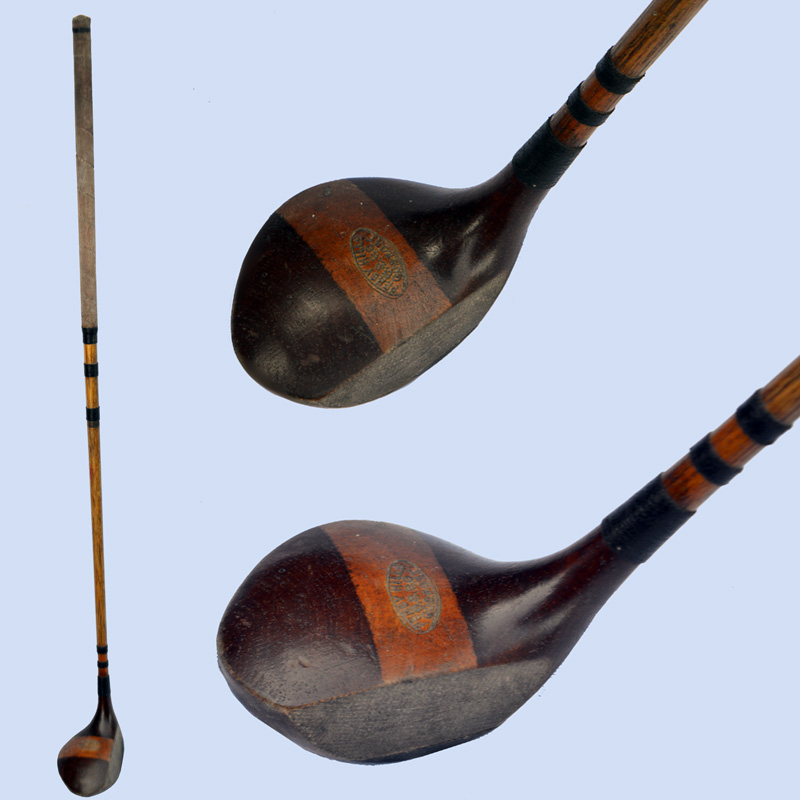 Click on the image to view it full size