Putting cleek
Maker: J P Cochrane , Edinburgh
Date: 1905

A good playable putter from the well-known Edinburgh firm of J P Cochrane and clearly stamped with their "knight in armour" cleekmark. The reverse of the head is also marked "Warranted Hand forged" (in oval form) and "Putting Cleek". Putter and putting cleek are largely synonymous but cleeks often have more loft, pretty much a necessity on the rough putting surfaces of the day. This has a slight loft which differentiates it from a simple blade putter. The hand marked face has three lines of dots within enclosed bars.

The good hickory shaft is still straight and has a black "tacki" grip, probably a replacement in the 1920s, with some decorative whipping.
Price $155.00
Reference: PUT406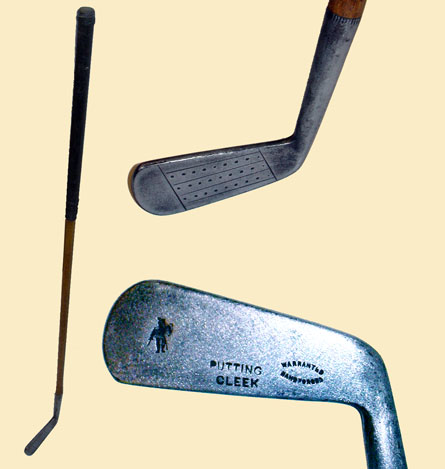 Click on the image to view it full size