The Exhibition bulldog brassie
Maker: John Haskins , Hoylake
Date: 1908

An excellent example of a bulldog brassie from Hoylake, the home of the 2014 Open Championship, demonstrating all the features associated with the club type. It has the length of a brassie but the loft of a spoon. The head is broad and solid, hence the term bulldog, and has the characteristic curved sole covered by a full brass soleplate held in place by six screws. Like many bulldog brassies it has a decorative face insert (also forming the slip) in this case black with seven hickory dowels forming a "fancy face".

The crown is stamped "Haskins Hoylake", in oval form, below which is "The Exhibition" and "Special". The hickory shaft, in excellent condition, carries a soft black leather grip.
Price $285.00
Reference: S260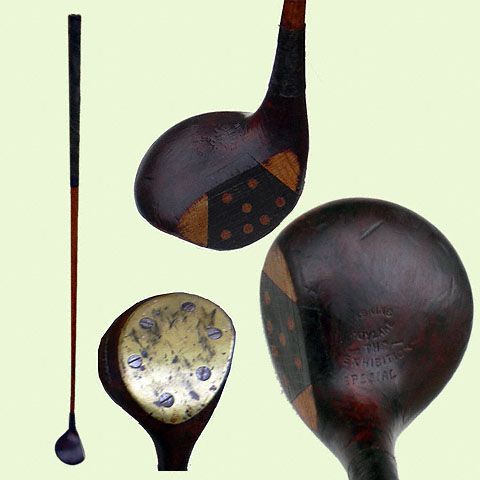 Click on the image to view it full size