J H Taylor "The Greyhound" brassie
Maker: Cann and Taylor , Sheen / US
Date: 1926

An unusual design from Cann and Taylor, bearing the signature of its joint proprietor, the great J H Taylor, the clubhead slopes away on both sides of a high pointed crown so, in section, forming a five sided striking face.

In length and loft it is clearly a brassie but, unusually, it does not have a full brass soleplate but rather the "slice of pie" plate normally reserved for drivers. This is secured by five screws and has a horn slip below it.

The head is stamped "Reg No 703766" [so, presumably a registered design], "Cann & Taylor", "The Greyhound" and the signature of J H Taylor. All these stamps are picked out in gold paint. A good straight hickory shaft is also stamped with the maker's name and J H's signature. The soft deep burgundy leather grip is probably the original.

I would be intereted to know what connection, if any, the Taylor family had with greyhounds as it does not seem to be mentioned in the literature on them. In addition to choosing the name for this design the greyhound was the cleek mark favoured by J H's younger brother, Josh.
Price $250.00
Reference: B363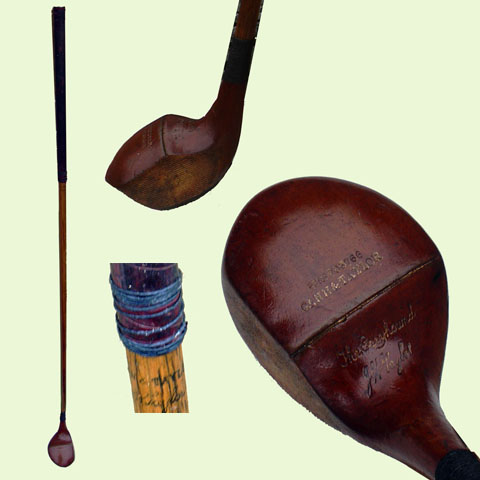 Click on the image to view it full size