Rivers-Zambra Scuffler
Maker: Stadium Golf Manufacturing Company , London
Date: 1925

The first impression this beautiful club gives is one of modernity, something Phil Mickelson would produce when standing in greenside rough, but, in fact, it is the design of an amateur golfer (Rivers-Zambra) in the 1920s. Produced by the Stadium Golf Company and sold by F Hedges, the professional at the West Byfleet club in Surrey (his stamp is on the shaft) it is a lofted chipper used for 'bump and run' shots around the green.

The rustless iron head has appreciable loft and a hyphen-marked face. The sole of the club is marked "The Scuffler" and the narrower flat top bears the stamp "Rivers-Zambra Approach Putter Regd No. 740870". The reverse of the head is marked with the Stadium Anchor cleekmark, "Warranted Rustless Iron" and "Hand Forged Throughout".

The hosel of the club is ovoid so the hickory shaft, in excellent condition, tapers from circular to ovoid in diameter. Its black leather grip is almost certainly the original.

An excellent example of a popular collectors' club.
Price $525.00
Reference: PUT394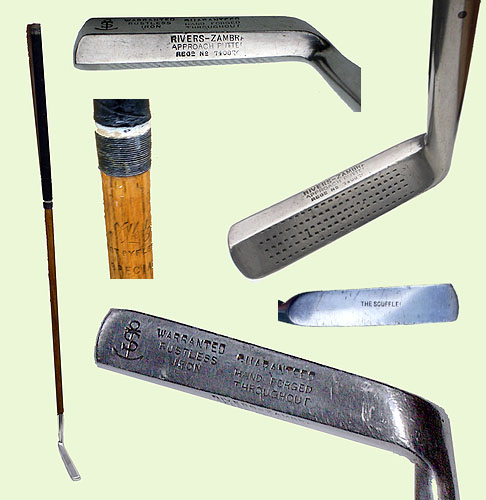 Click on the image to view it full size