Goldsmith mashie with ring hickory shaft
Maker: P Goldsmith & Sons , Cincinnati, Ohio
Date: 1927

Stamped on the back of the head simply as "Mashie", and with a "5" on the sole, the oversized head makes it more a deep-faced or spade mashie. The rather grand stamps on either side of the "Goldsmith Model B" mark have the Goldsmith trademark within an inner circle surrounded by "Warranted Athletic Goods Cincinnati, Ohio, USA" in an outer circle. The face has a simple enclosed hyphen pattern.

What makes the club stand out is the fine ring hickory shaft, made from the innermost part of the trunk, still dead straight and in perfect condition. It is interesting that there was still high quality hickory of this for internal consumption in the USA for a fairly run of the mill club. Supplies of this grade of hickory to Britain were by now drying up, the main pressure towards the adoption of steel shafts. The soft black leather grip is original and also in perfect condition.
Price $115.00
Reference: MA285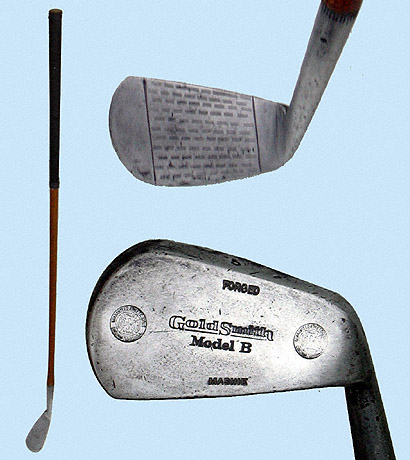 Click on the image to view it full size