Driving mashie
Maker: Alexander Patrick , Leven
Date: 1920

The driving mashie was introduced at the end of the 19th century but was never generally accepted and so did not last long as a club type making it rather collectable. It is more usually associated with Willie Park. In loft and shaft length it is between a driving iron and a cleek and was used off the tee for the longer short holes or in general iron play. This one is even more unusual as it has been made as a "throwback", the "Welmade" mark placing it between 1920 and 1925.

The deep face is very much in the style of the Park driving mashie and the club is so marked on the sole. The face has a simple enclosed dot punch pattern and the reverse, in addition to the Welmade mark of a girl drawing water from a well surrounded by the Welmade horseshoe, has "A Patrick Leven" in curved form and "Warranted Hand Forged".

The straight hickory shaft is also stamped "A Patrick Leven", something Patrick reserved for his top quality clubs. It carries a black "all weather" grip, almost certainly original.
Price $230.00
Reference: MA282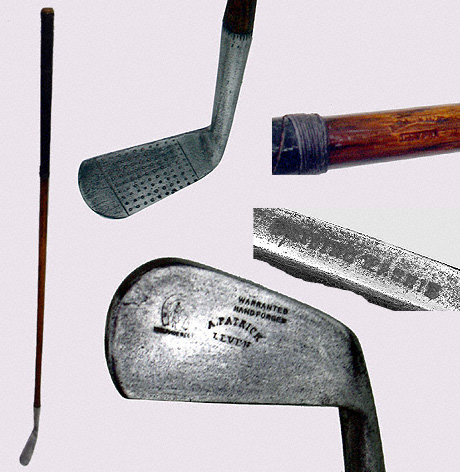 Click on the image to view it full size