"The Scot" ladies' mashie niblick
Maker: Acme Golf Company , Glasgow
Date: 1928

A late but eye-catching mashie niblick from Glasgow which would make a nice present for a lady golfer with Scottish connections. In very good original condition the face has an enclosed dot-dash pattern. The reverse is clearly stamped with a "kiltie figure" surrounded by the legend "The Scot" with "L" (for Ladies) "Mashie Niblick" below. It is also stamped "Made in Scotland", "Special" and "Rustless" with the makers' name "Acme Golf Co Glasgow" in curved form in the centre of the clubhead.

A good hickory shaft, dead straight, is finished with a soft black leather grip, almost certainly original.
Price $135.00
Reference: MN229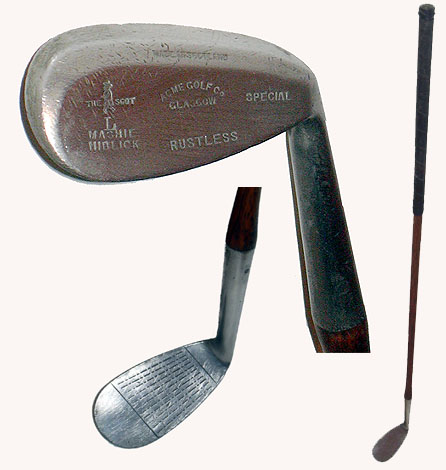 Click on the image to view it full size