John Duncan Ladies' Driver
Maker: John Duncan , Elie/Glasgow/Stirling
Date: 1910

A driver from John Duncan made during the thirty odd years he spend as professional in Stirling. A large-headed persimmon club, but kept light for a lady by having a very small lead back weight. It is stamped on the crown "J Duncan Stirling" in an oval with "Special" below, all with traces of gold paint picking out the letters.

The hickory shaft remains straight and has heavy old whipping coming up about 5" from the joint, probably to increase the shaft stiffness as there is no sign of damage. There is a further extended band of whipping below the grip which is an eye-catching red rubberised affair with black spirals through it, probably made by the North British Rubber Company.
Price $135.00
Reference: D284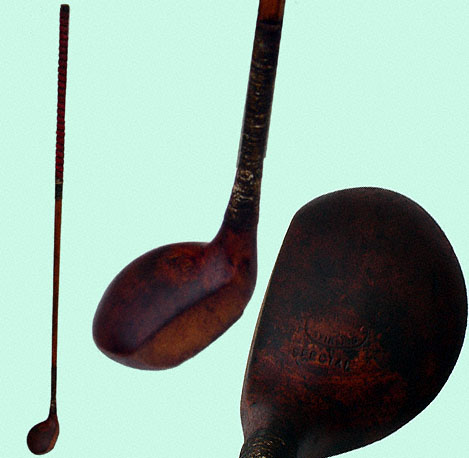 Click on the image to view it full size