Crowley "Victory" patent brassie
Maker: J S Crowley , Glasgow
Date: 1919

A well-preserved and interesting patented brassie from this Elie and Glasgow clubmaker. The innovation, leading to the patent or registered design, is on the face. A dark hardwood inlay has been added from the sole upwards in the face (replacing any horn slip) with three brass plugs inserted in it and extending around 60% up the face. The rest of the head is persimmon and is stamped "J Crowley" (in signature), "The Victory", "26072" on the crown, this all picked out in gold paint. The sole is protected by a brass plate secured by six screws.

The hickory shaft is straight and in good condition and carries a thick suede grip with original cloth listing below.
Price $295.00
Reference: B349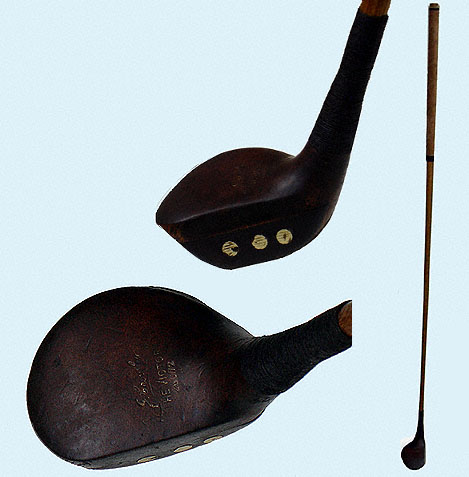 Click on the image to view it full size