Turn of the century scareneck brassie

Date: 1903

A nice example of a scareneck brassie from the turn of the twentieth century but clearly made for someone with a hankering for the clubs of a generation earlier with the extra long shaft and the extreme whippiness. The head is made from the 'new' American wonder-wood, persimmon, and displays a very attractive grain. There are no maker markings on the crown. The face has a hand-scored criss-cross pattern. The striking edge is protected by a black fibre slip and the sole is covered by a full brass plate secured by six screws.

The hickory shaft is much longer and finer than one would expect for this era. Perhaps made for an older gentleman having trouble getting the ball into the air off the tee and certainly for someone more used to the shafts of the earlier long-nose clubs.

The linen listing below the shaft is original, the soft black leather grip a period replacement. A good example of a club of the period at a low price as a result of it not having a maker's name stamped on it.
Price $180.00
Reference: B335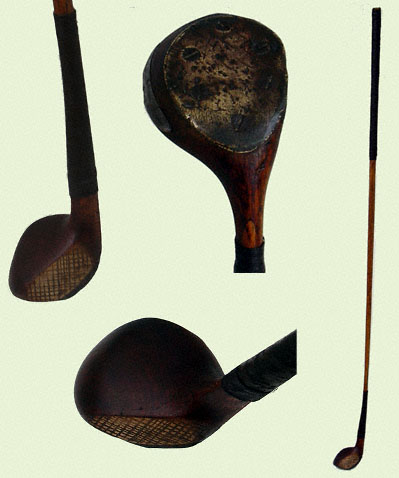 Click on the image to view it full size