Dell scareneck brassie
Maker: William Dell , Hull
Date: 1908

A relatively late and very nicely made spliced head brassie from a Yorkshire professional and clubmaker during his time in Hull. The head is formed from a fine piece of golden persimmon which has mellowed to a smoky colour over the last hundred years. The crown is clearly stamped "W Dell Newland Golf Club Hull" in an oval. A curved brass soleplate, secured by six screws, covers the sole of the club. Further protection is provided by a horn slip. This, at a time when fibre was the predominant material, and the spliced head, suggest the club was a special order for someone who preferred the traditonal ways of golf.

The hickory shaft is straight and in good condition and is finished with a thickish black hide grip which is almost certainly original.

A good display club in excellent condition and just enough wear to plate and slip to show that it has been used.
Price $230.00
Reference: B332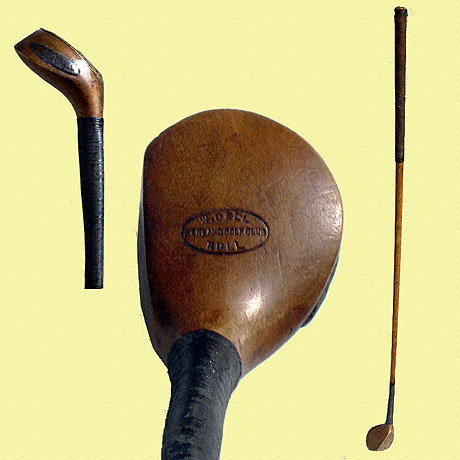 Click on the image to view it full size