"The Springbok" Driver

Date: 1920

The head of this club is made from a very attractively banded piece of persimmon which has been very nicely finished. The maker is unknown but, with "The Springbok" in script, and picked out in gold lettering across the crown, it does not require a giant leap of faith to decide it was made in South Africa. Provenance suggests it may have been by one of the boys who went out from Carnoustie to take up positions as professionals there, such as Jack, Willie and George Fotheringham. The face has signs of play consistent with a club of this age.

The hickory shaft is straight and is topped with a composite leather and rubber grip which has been damaged somewhat by heat but is intact and, because it is probably original, has not been replaced.
Price $155.00
Reference: D268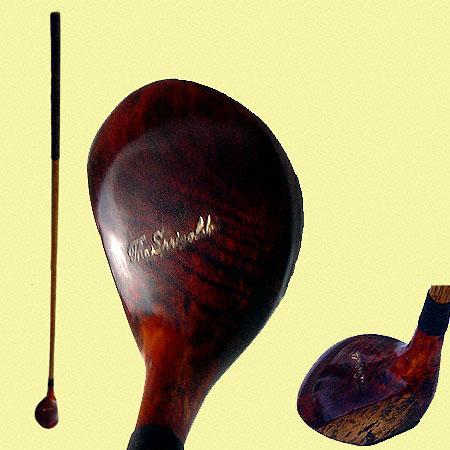 Click on the image to view it full size