Kroflite mid-mashie for Fairweather
Maker: Sydney Fairweather , Belfast
Date: 1928

A Spalding Kroflite F3 mid-mashie marked for Sydney Fairweather, the Scots-born professional to the Malone club in Belfast. It has the unusual face marking Spalding chose for this model, smooth except for four lines towards the sole. The sole itself is stamped "F3". The reverse is marked "Spalding Kro-Flite" with the Kro-Flite bird mark. "S Fairweather Malone GC" is in script in the middle of the head and it is also stamped "Mid-mashie", "Hand Forged" and "Rustless". The hosel has a band of decorative diagonal millling.

The hickory shaft is straight and the deep burgundy leather grip almost certainly original.

In excellent condition, the unusual face marking provides an eyecatching example of late 20s early 30s design for display or, if you take a shine to the longer, thinner face of the mid-mashie, a good club for play.
Price $115.00
Reference: MA251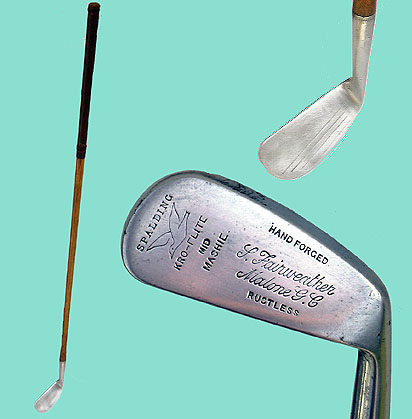 Click on the image to view it full size