James Braid mashie iron
Maker: James Braid , Walton Heath
Date: 1903

A club bearing the name of the five-time Open Champion, James Braid. Most clubs bearing his name are "signature" models made by Gibson of Kinghorn and, despite his clubmaking background, ones from his own workshop are much rarer. Presumably he was too busy winning tournaments. The club is in good condition although some of the marks have been emoried away over the last 100 years. The face has a dot diamond pattern.

On the reverse, only the "J Braid" is really clear within the oval. Below this, only the remains of a "D" are visible suggesting this came from his time at Romford (1896-1904) and before he began his long association with Walton Heath. The reverse is also stamped "Mashie Iron". The mashie iron was a club introduced by Braid's friend and rival, J H Taylor. Taylor's Open successes did much to bring the mashie to the golfing public's attention. He felt that the average golfer would do better with a longer, narrower blade and so, through his clubmaking firm, introduced the mashie iron.

A straight grained and darkly stained hickory shaft, almost certainly original, is still dead straight. The grip, which has had some repairs, is suede.
Price $230.00
Reference: MA247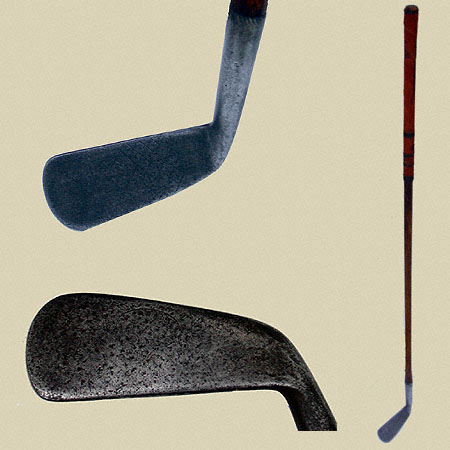 Click on the image to view it full size