Peter McEwan Ladies' 1 iron
Maker: Peter McEwan Jnr , Preston/Kilmarnock/Nairn
Date: 1928

This ladies' 1 iron from Peter McEwan represents the end of a dynasty. He was the sixth generation of McEwan to work as a clubmaker (at Preston, Bolton, Barassie and, in this case, at Nairn from 1927 to 1929). The clubhead was forged by Cochrane of Edinburgh and bears their rope cleekmark. It is also marked "Rustless Hand Forged" and seems to be from an alloy similar to their "Challenger" metal. "Ladies Specially Selected Super 1 Iron" is also clearly stamped. The face carries an enclosed dot pattern.

Although the head is smaller, in keeping with a ladies' club, the shaft is not appreciably shorter so perhaps has been reshafted. It was not uncommon for a "set" of male clubs, these being by personal selection rather than matched, to contain a ladies' club. The soft black leather grip is certainly of the period the club was first made.
Price $105.00
Reference: LIR272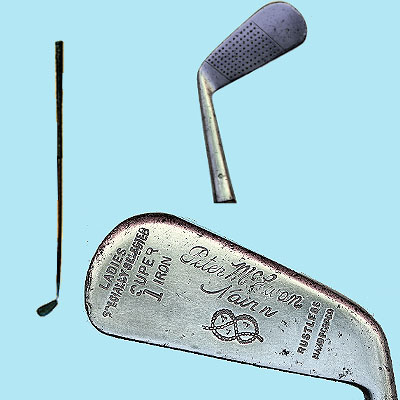 Click on the image to view it full size