Mills Model M Aluminium Putter
Maker: Standard Mills , Sunderland
Date: 1919

One of the more unusual models in the Mills range, the M is a fairly short-nosed mallet (3.5") The crown has an aiming line across the centre of the head and, above this, is stamped "D Millar" (in capitals) for the professional at the beautiful Perthshire course of Blairgowrie around the time of the First World War. The sole is stamped "Putter M Model Medium Lie 9 Ozs 10 dr". Weight is added to the aluminium head by means of three plugs of lead, each .5" in diameter. There is a small hairline crack in the hosel but it does not detract from the appearance of the club. The hickory shaft is straight and carries the original smooth leather grip.
Price $245.00
Reference: PUT309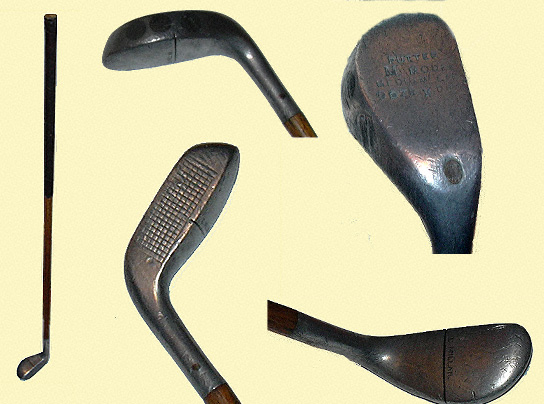 Click on the image to view it full size