Diamond-back mid iron
Maker: J B Halley , London
Date: 1926

A mid-iron in excellent original condition from the J B Halley company of London, best known for their brass putters. The face has an enclosed dot pattern. The reverse has one of Halley's many cleekmarks, crossed swords surmounted by an "H". It is also stamped "Warranted Hand Forged", "Mid Iron". The club has a diamond-back form, four facets on the reverse like a gemstone, coming to a raised point in the middle of the head, thus concentrating the weight behind the sweetspot.

Good straight hickory shaft. Dark burgundy soft leather grip, probably original.
Price $130.00
Reference: LIR252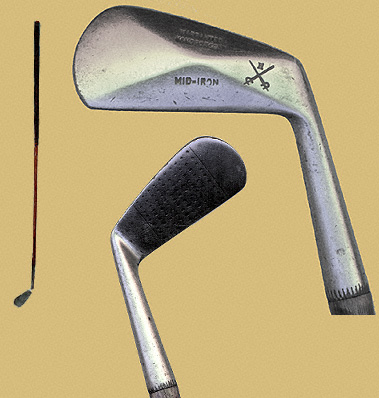 Click on the image to view it full size