Catalogue: The Bobby Locke Collection

Date: 1993

Catalogue from the Christie's auction in London, July 1993, of golf equipment, pictures and memorabilia belonging to the four times Open Championship winner, Bobby Locke. Packed full of colour and b/w photographs of interesting golfing memorabilia.

Bobby Locke persevered with his unique style from boyhood onwards much to the chagrin of US golfing purists. "A weak left hand", was the American verdict. "That's OK", responded Locke, "I sign the cheques with my right."
Price $75.00
Reference: MEM48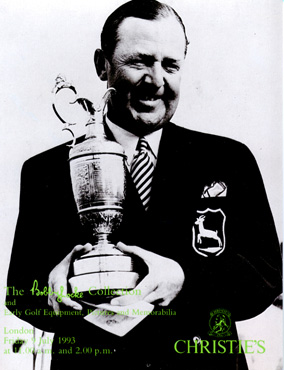 Click on the image to view it full size