Clubmakers
---
A Arran
Manchester/Burnley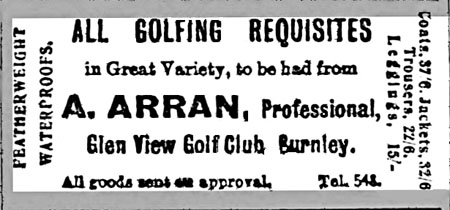 Arthur Arran was born in Methley, on the outskirts of Leeds, in 1872 and was following his father's trade as a gardener when he married Harriet Ann Head in Manchester in 1895.

He seems to have begun his golfing career at Flixton in the early years of the 20th century. Apparently he hurt his right arm and found it impossible to play right-handed anymore and the Manchester Courier, reporting him playing in their 1907 tournament and 'that he performs so steadily as a left-hander'. He was still playing in the Courier Cup from Flixton in 1908 but, by 1909, had entered as professional at Todmorden. From 1910 until 1921 he was professional at the Glen View club in Burnley.

Tragedy befell the family in October 1918. Arthur's son, Eric, only 18, a wireless operator in the Navy returned home after being torpedoed and spending time in an open boat before being picked up by a trawler, landed in Spain and spending six days travelling overland to get home. The newspaper report of the time said 'pneumonia supervened' but, given the whole family fell ill, one might suspect "Spanish flu". All were ill, but Eric and Arran's wife, Harriet. who had been in charge of the clubhouse, both died and were buried on the same day. This left Arthur and daughter Harriet Ann.

Search the catalogue for clubs by this maker