Clubmakers
---
David Brown
Musselburgh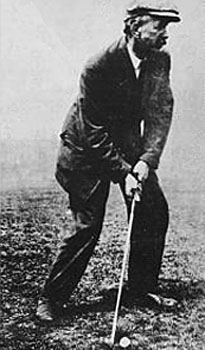 Born in Musselburgh in 1860, depending on the source, David "Deacon" Brown (the nickname applied because of his golfing in a black tailed coat) was either a slater or a plasterer. He first played in the Open Championship in 1880, finishing tied for fourth, had another go in 1883 when he was 24th but was working when the Open returned to Musselburgh in 1886. The club secretary persuaded him to play to make up the numbers and lent him striped trousers, a frock coat and a top hat. Brown won the championship by two shots from Willie Campbell.

Having won the Open Championship, he made golf his career becoming assistant to his friend from Musselburgh, Peter Paxton at the Malvern club in Worcestershire. In 1888 he went to Northumberland to become professional to the Newbiggin-by-the-Sea club and in
1891 returned to take over from Paxton as professional and clubmaker to the Malvern club where he remained until 1898.

He featured in a rather spectacular divorce action in 1895. From Newbiggin-by-the-Sea in 1888 he returned to Musselburgh for a visit and found his cousin living in the marital home. In September his wife wrote to him in Malvern to say she was leaving. On his return he found the couple's three children left in the care of a girl and his wife departed for Omaha, Nebraska.

In 1900 it was reported that the members at Malvern had taken up a collection to provide an annuity for him as he was 'permanently invalided' by sciatica. Nevertheless, he emigrated to the United States early in 1901. What he did initially is unclear. There is a later reference in a Scottish newspaper to him being professional to the new Fox Hills club on Staten Island prior to the appointment of Isaac Mackie there and the New York Daily Tribune announced his appointment, on the recommendation of Harry Vardon, in December 1900. However the New York Times of 24 April 1901 states that his appointment was rejected by the committee. Sporting Life rather cryptically recalled the event in 1917, 'At one time he secured a place at Fox Hills but he only lasted long enough to draw his breath for, on occasions, Davy thought more of other things than golf.'

Hr seems to have found another position quickly, at the Crescent Athletic Club in Brooklyn. and entered the US Open from here, finishing seventh and winning $50.

Another Scottish newspaper account mentions him being at White Mountains and, given they wrote he had gone to Boston, I take this to be New Hampshire though I can find no confirmatory record. He was certainly in New England as he was professional to the Wollaston Country Club outside Boston in 1903 when he finished second in the US Open to Willie Anderson where he clawed back a six stroke deficit in the final round but he lost the eighteen hole play-off by two strokes.

Over the next twenty odd years he was professional at a number of other New England courses though I am missing some of his posts, I am sure. He was at Merrimac, a recently opened Donald Ross course in 1907, then at Lawrence for a couple of years from where he played in the 1908 US Open and the opening tournament at Brookline. From the records of the Massachusetts Open, it seems he was a pro at Brookline at one point, being one of four competitors in the 1911 event to have Country Club as their affiliation.

In 1917 he moved to Waterville, Quebec, to be professional at a new nine hole course there. Whether he retired from golf after this I do not know but have found no other professional appointments. It is said he liked to play the stock market and was badly hit by the 1929 crash. Whatever the truth of this he clearly was in dire financial straits and returned to Musselburgh.

At the time, the oldest holder of the Open Championship, he died in Inveresk Poorhouse, two miles from Musselburgh Golf Course on 8 July 1936 (not 1930 as Wikipedia and other sources state) where he had been an inmate for five years.

Search the catalogue for clubs by this maker