Clubmakers
---
David Low
Dundee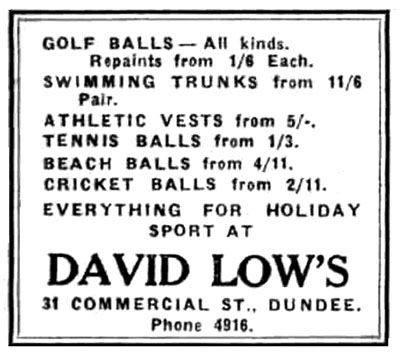 David Low came from a well-known and well-travelled Carnoustie golfing family with his father, John, being the one to remain in Tayside,

He opened a business as a newsagent with his wife at 54 Wellgate, Dundee, after the First World War. This became "Golf club maker and newsagent" around 1924 and a couple of years later he added an indoor golf school employing Albert Robb, formerly of Royal Eastbourne, and, according to the advertisement, 'teacher of Jim Barnes, Open Champion' as instructor. John Murray, the professional at Pitlochry, was employed as professional at the Wellgate golf school from 1927 as was Roland Oswald who left to become professional and clubmaker at Fishers Island, New York, that year. Low offered a free lesson with every set (often as few as four clubs) bought.

The business moved to its familiar location at 31 Commercial Street in 1935 and grew to cover all sports with four floors of showrooms and to selling tickets for local sporting events. The basement golf school was still an intrinsic part and in this decade, Willie Laidlaw, professional at Gleneagles and George Knight, Swiss professional champion and pro at Lausanne, taught here as did James Gold and John Panton who learned his clubmaking skills here.

During the Second World War, he was proud of never having refused a golf ball to a serviceman and, having saved balls assiduously, sold 2000 golf balls within four hours after VE Day.

The business was later run by his son, also David, who opened two more branches in Dundee (in Gellatly Street and Strathmartine Road) and in Carnoustie and St Andrews and who continued to manage the making of wooden putters and classic clubs until into his 80s. He died in 2011 aged 88. The business itself went into members' voluntary liquidation in 2002.

The advertisement is from 1949.

Search the catalogue for clubs by this maker