Clubmakers
---
Alec Smith
Carnoustie/New York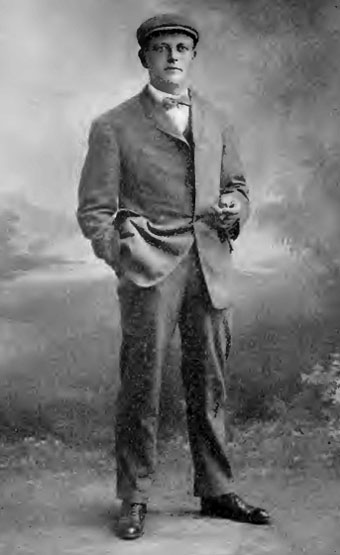 With Willie, George, Jimmy and Macdonald (Mac), Alec was one of five great Carnoustie golfing brothers (albeit he, in 1874, Willie and George were born in Dundee) and the most successful tournament professional among them, at least in terms of majors.

He had experience as a club professional at Luton, starting in September 1896 before moving shortly after to St Neots where brother Willie assisted him.

He had worked as a clubmaker with Robert Simpson and is shown on the 1891 census as an apprentice clubmaker and, returned as a foreman there after coming back from England. He and brother Willie were probably the first Carnoustie golfers to seek their fortune in America. He left Simpson's in February 1898 to be replaced by George Low, another clubmaker soon to be headed across the Atlantic, to become professional and work at the Washington Park Club on Chicago with William Yeoman and Fred Herd from St Andrews. Herd and Smith finished first and second in the US Open at Myopia that year. His time would come though. He won in 1906 and 1910 (defeating his brother Mac and Johnny McDermott in a playoff). In all he had eleven top ten placings in eighteen US Open starts.

The winters of 1900 and 1901 he spent as an instructor at Coronado. He came back to Carnoustie in the summer then took up a new post at the Nassau Country Club on Long Island in September and had his brother-in-law from Carnoustie, Jim Maiden (later of East Lake fame) as his assistant. According to the club's Centenary Book, Smith remained until 1908 but I know he took over from C A W Fox at the Scarsdale club in Hartsdale in 1906. Perhaps he held both posts at the same time but in any event he was back in Carnoustie in May 1907 reprising a match he had played ten years previously with his old clubmaking boss, Bob Simpson. He was also preparing for the Open Championship at Hoylake the following month where he finished a disappointing 25th.

He was a mixture of old and new styles: he used the old baseball grip rather than the interlocking Vardon grip but he won the 1906 US Open playing with a Goodyear Pneumatic ball, filled with compressed air. These had a tendency to explode in mid-air so were not around for long. The year before he had won the first of his record-breaking four Metropolitan Opens using "fishing pole" clubs with the driver 48" long.

In 1909 he accepted the professional's post at Wykagyl and spent ten years there, interrupting this with a trip to Britain in 1910 where he captained an Anglo-American team (including Isaac Mackie, Horace Rawlins and Gil Nicolls) against English-based professionals. In 1916 he played a home and home match with Nicolls against Walter Hagen and Michael J Brady for £250 a side, at that time the largest stake in the professional game.

After Wykagyl he moved to the Shenecossett Country Club in Connecticut where he gave lessons twice weekly to the then 16 year old Glenna Collett Vare. During his time here he played and lost with Cuthbert Butchart against George Duncan and Abe Mitchell on their 1921 American tour.

His final professional post was at the Westchester-Biltmore Country Club from 1925 until 1928 wintering at the Biltmore-Miami. He died in a Balimore hospital in 1930.

Despite the time he spent playing tournaments (in addition to the victories mentioned above he won two Western Opens, three Eastern PGA Opens and the Southern Open in Memphis in 1912) he did make some clubs marked with his name in America, principally during his time at Nassau.

Search the catalogue for clubs by this maker