Clubmakers
---
Willie Anderson
Baltusrol, New York etc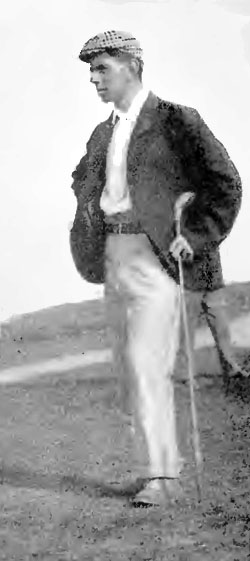 Born in North Berwick in 1879, Willie Anderson was the son of Thomas Anderson, who had become head greenkeeper of the West Links after performing the same role at Kilspindie and Braid Hills.

After school (where he apparently spent little time, the caddymaster suspended him for a fortnight for caddying during school hours) he served a clubmaking apprenticeship with Alex Aitken and was said, by Horace Hutchison, to be one of the best in the country.

Aged 16 he sailed to America to become professional at the Misquamicut club in Rhode Island, a course he subsequently extended to 18 holes. By the next year, 1897, Willie had become professional at Lakewood, NY, and entered his first US Open, finishing runner-up in Chicago to Joe Lloyd. He finished third the next year and was now professional at Baltusrol and played a match against George Low, the Dyker Meadow pro from Carnoustie, for £40 which he won.

His record breaking run in the US Open began in 1901 when he was professional at Pittsfield, MA, and won his first Open at Myopia in the state following a play-off with Alec Smith. In the intervening years, though, he had seen more than the top half of the Eastern seaboard. He had gone south in the winter months to be professional at St Augustine in Florida and played exhibition matches in the west with Horace Rawlins, both men also working at the Oakland club in San Francisco, While in California Anderson won the first Southern California Open at Coronado Beach. Making his way back east he stopped at Oconomowoc, Wisconsin, to spend some time as professional at their early, pre-Donald Ross layout.

1902 took him to the Montclair club in New Jersey as professional and, after he moved on, first to the Hotel Raymond in Pasadena for the winter and then to Apawamis the following year, his father took over the position. While in California he won the Western Open of 1902 (he won it again in 1904) and so became the first man to win the three oldest major tournaments in the US, the US Open, Western Open and Southern California Open. He won the US Open for a second time in 1903, at his old club, Baltusrol, retained it in 1904 at Glen View in Chicago and made it three in a row, the only golfer to have done so, back at Myopia in 1905. Before winning the US Open in 1905 he had also taken a trip back to Scotland competing in a professional tournament at Ranfurly Castle, where he lost 2&1 to Harry Vardon in the first round, and then having a dismal performance in the Open Championship at St Andrews, failing to qualify for the last two rounds.

After returning to the US with a lucrative contract to be professional at Onwentsia in 1906 he played in a tournament in Mexico, on the Mexico County Club course at San Pedro, with Walter Travis plus visiting British professionals, Andrew Kirkaldy, Jack White, Sandy Herd and Rowland Jones. He tied for 2nd behind Willie Smith who was pro there.

He won another two Western Opens, in 1908 and 1909, taking his tally to four. In 1910 he was appointed professional at the Philadelphia Cricket Club. It was to be his last position as he died that same year aged only 31. Much has been written that he drank himself to death; even as late as 2012 the Scotsman newspaper writes of his death being the result of 'an overindulgent lifestyle', yet it has been known for many years he died from epilepsy.

His clubmaking was not entirely forgotten in the United States. He designed clubs for Worthington who produced a range with his name in signature.

Search the catalogue for clubs by this maker