Clubmakers
---
William H Horne
Guernsey/Rye etc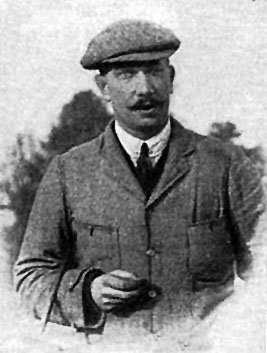 William H Horne was the longest hitting golfer of his day. He smacked a ball 358 yards off the tee at North Berwick in 1909. Presumably when he hit it this hard he also hit it straight as he managed to finish 7th in the Open Championship of the same year at Deal. The papers reporting his world record at the time mention that he, with Braid and Ray, was one of the biggest players competing at the time, standing over six feet tall. By today's standards probably a midget! His long driving was commented upon in a report of an exhibition match he played at Walmer in 1910 with J H Taylor against Tom Ball and the local professional, Ben Nicholls, where he consistently outdrove the other three.

Born in Dover in 1881, he began his professional life at Royal Guernsey in 1905 before taking up posts at Carlsbad, Beckenham and Chertsey. When playing in the second Open Championship of Baden-Baden in 1912 he had the affiliation of the Littlestone club in Kent. Early in 1914 he emigrated to South Africa to take up a professional's post at Durban and was South African Open Champion in 1919.

He returned to the UK before emigrating to the United States to take on the post of professional at Rye Country Club in New York in 1922. In 1924 he became staff professional to the Goodyear Company in Akron, Ohio.

Search the catalogue for clubs by this maker