Clubmakers
---
George Smith
Lossiemouth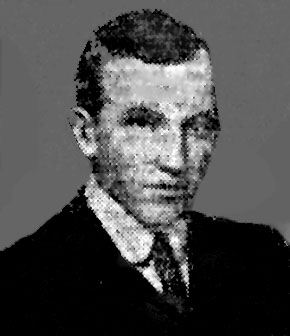 George Edward Smith was a native of Lossiemouth, born in 1889. He was assistant to his future business partner, Alex Marling , at Forres, Erskine and Bieldside. His first appointment as professional in his own right was at Balnagask in 1912 and, before the First World War, at Deeside in Bieldside. He was also a partner in the Aberdeen clubmaking business and sports retailer Marling and Smith in Bridge Street with Alex Marling/.

When war came, Marling and Smith closed up their shop and joined the Gordon Highlanders. Smith was wounded in Ypres and rendered completely deaf. He also had pieces of shrapnel remain in his legs. Nevertheless he became professional at the Moray club and won the Scottish Professional Championship played over Gleneagles in 1922 emulating his business partner, Marling, who won in 1913. You don't get that in J D Sports!

'He canters round like a Captain Cuttle', stated one of the reports of the day, 'His quickness of action at times excels even George Duncan. The club is placed in front of the ball, and then skelp goes the shot. There is no waggling with the club, no fiddling about with his feet'.

He laid out the courses at Royal Tarlair and at Stromness and extended Strathlene to 18 holes in 1936.

Not something many professionals can boast about, he held the record for the 9-hole course at Canton, China (Guangzhou) during which round he made his first hole-in-one.

In his time as professional at Moray, he employed the first female assistant professional in Britain when he was joined by 19 year old Meg Farquhar in 1929. She entered the Scottish Professional Championship when it was held at Nairn in 1934.

He retired from the Motay club in 1950 after 33 years service and died in Lossiemouth on 17 January 1958.

Search the catalogue for clubs by this maker