Clubmakers
---
Harry Fulford
Le Touquet (France)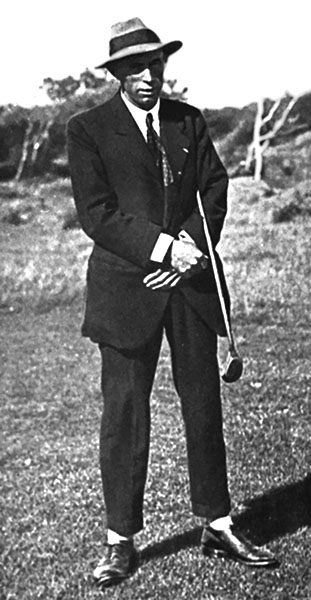 Harry (or Thomas Henry to give him his Sunday name) Fulford certainly kept good company. Born in Northam Devon in 1879, he began as a caddy at Westward Ho ! and served an apprenticeship with the great local clubmaker, Charles Gibson. He then spent time as a clubmaker, and later foreman, in the Cann & Taylor workshop of the great J H Taylor. By the time of the 1901 census he is shown as a clubmaker, living with his father William in Ruislip (so presumably his assistant at Northwood GC). He went to Egypt as pro at Helouan before returning to England to become professional at Bradford from 1905 until the outbreak of the First World War.

After serving, and being wounded by shrapnel, with the Niblick Brigade during WWI he saw France in a more pleasant light, serving as professional at the glitzy resort of Le Touquet where he had been hospitalised.

His lasting contribution to clubmaking was the invention of the sammy iron, a lofted cleek for chipping around the green or from light rough, a variation of the jigger. His sammies are from around 1905 and had rounded backs although this feature was dropped by later makers.

Search the catalogue for clubs by this maker