Clubmakers
---
Cuthbert Butchart
Carnoustie/Berlin/NYC etc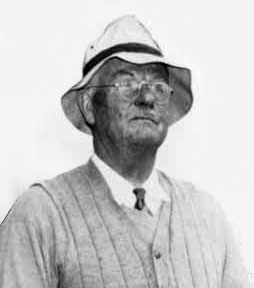 Born in Carnoustie in 1876, the son of John Butchart, Cuthbert Strachan Butchart was a much-travelled and very successful professional and clubmaker. He learned his clubmaking in Carnoustie as an apprentice to Robert Simpson but went south for a year to be assistant to Robert Monro (J H Taylor's predecessor) at Royal Mid Surrey. On his return to Angus, he settled in Montrose, joined the "Merkie" (Mercantile) club and set up as a clubmaker. This was not a successful venture so he went to make clubs for Ben Sayers at North Berwick and, for a short while, managed the factory at Barnton in Edinburgh for the Forth Rubber Company.

1897 saw him golfing again as pro at the Pollok club in Glasgow. He stayed here until 1901 when he took up a position at Royal County Down in Northern Ireland and a concurrent one at the Malone club. Here he began large-scale clubmaking taking 4½ tons of wood with him when he went and investing heavily in machinery. He moved to England in 1905, to the Highgate club in North London, and made clubs as the London Golf Supply Company and Butchart's Golf Company Ltd. The company went into liquidation in 1907 and he worked as a club pro around London, Bleakdown, Westhill and Stanwell Place, until 1911 when he left for Germany.

He was professional at the fashionable Berlin club and designed several new courses in the country. According to Peter Georgiady's description he also found time to win the German Open but this doesn't seem to be borne out by the record books: J H Taylor was the only pre-war winner in 1912. Unfortunately Butchart found himself in Germany at the start of the First World War and was interned for its duration at the Ruhleben camp built around the Berlin racecourse. According to the American Golfer of June 1915, Butchart's shop and all the stock within was burned down. Furthermore, the Berlin club had established a fund of around $50,000, largely subscribed by British and American members, which was to be used for a new course and clubhouse near Potsdam. At the outbreak of war the authorities seized it and invested it in German War Loans.

Obviously Butchart did not bear a grudge as he served another two years at the Berlin club, from 1919-1921 and then emigrated to the US. He was professional at the Biltmore Country Club in Westchester, NY, and was a partner in the Butchart-Nicholls clubmaking business in Glenbrook, CT, famous for combining laminated bamboo and hickory in shafts for irons. He died in New York in 1955.

Search the catalogue for clubs by this maker