Clubmakers
---
D McEwan and Son
Edinburgh/Musselburgh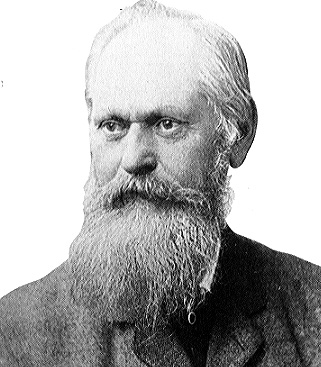 Douglas inherited the clubmaking business of his father Peter in Edinburgh in 1836 and moved to Musselburgh in 1847. The work of the firm spanned six generations, from James making clubs in Edinburgh in 1770 to a second Douglas who ran the business until 1920 and McEwans who were club professionals around the country. The photograph is of the second Peter (b 1834), the grandson of the first. As is explained in the entry for James, after his time all clubs from the firm were simply marked "McEwan" and so, although there are biographical entries on the site for all the relevant family members (see the interactive family tree), the clubs here are all listed under "D McEwan and Son".

Douglas McEwan was born in Edinburgh in 1809 and baptized in St Cuthberts on 7 November in that year.

He married Maria Allan on 4 December 1832 in Morningside while still living at 36 Wrights Houses beside Bruntsfield Links.

Although he took the business out to Musselburgh, and his two youngest daughters were born there, he did not remain in the town and returned to Edinburgh. In 1861 he and Maria were living in the High Street in Musselburgh, with four of their children and both Douglas and son, Peter, shown as employing clubmakers. In 1870 Maria died but seemingly the family was already in Edinburgh by this time and, on the 1871 census, Douglas is living in Leven Street, Newington, with his daughter, Jessie. By the time of the 1881 census Jessie had married Alexander Montgomery, a tea dealer, and Douglas was staying with them and their three young children in Gilmore Place.

Douglas died in the house in Gilmore Place on 23 March 1886.

Search the catalogue for clubs by this maker