Clubmakers
---
Robert Ferguson
Musselburgh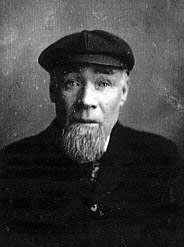 Bob Ferguson was born in Musselburgh in 1848 and died there in 1915. He was the greenkeeper, and free-lance pro, at Royal Musselburgh and winner of the Open Championship in 1880, 1881 and 1882. He was also runner-up in 1883. His career was cut short by an attack of typhoid.

The story goes that the golfing world first took notice of Bob Ferguson when, aged only 18, he beat the cream of Scottish professionals at a tournament in Leith using borrowed clubs. Supposedly one of the onlookers was so impressed he bought Ferguson a set of clubs which the player used for the rest of his competitive career.

Unusually for old Scottish golf stories, this one is true. The 'grand golf tournament open to all professional players in Scotland' was held on 17 May 1867 and young Ferguson beat the Tom Morrises, snr and jnr, Jamie Anderson, Willie and David Park and Andrew Strath among others in a field of twenty-two. The 'impressed onlooker' was probably Sir Charles Tennant who often backed Ferguson in matches and probably made a packet on him winning as an outsider so the eight clubs bought from Douglas McEwan's shop will not have made too large a hole in Sir Charles's winnings.

He was renowned for his putting and his use of a shot called by other golfers, without great enthusiasm, the "Musselburgh iron", a wooden approaching putter for a run-up shot from well off the green.

Ferguson rarely left Musselburgh. 'unless a money match called him away' according to Curt Sampson (Royal and Ancient: Blood, Sweat and Fear at the British Open). The suggestion in past Bonham's catalogue notes that he learned clubmaking in Aberdeen is more than far-fetched. He did learn clubmaking and sold what he made from a Musselburgh shop. But principally he was a caddie and, in his own words, the value of his three Open championships was the improvement in the customer who asked for him to carry their bag at Musselburgh. Nevertheless, it was a precarious existence (and I feel the need for an article on the persecution of the Musselburgh caddie coming on). The Scottish Referee in a far-sighted article in 1909 anticipated the senior championship first played in the United States in 1937.

'But what of the professionals of the past? There is Bob Ferguson, for instance, as great a player possibly as any of them. He ekes out today a precarious existence with intermittent jobs as a caddie. Would it not be a good thing for the richer professionals of today to inaugurate a competition specially for old indigent champions like Ferguson, charge a "gate" and devote the proceeds to their assistance? …. Think of a triple champion in successive years in penury, while others not half his worth loll in affluence and luxury'.

With Peter McEwan he designed the Braid Hills course in Edinburgh.

Search the catalogue for clubs by this maker