Clubmakers
---
David Grant
North Berwick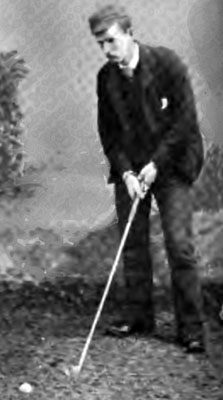 Son of David Grant snr and a bit of a wild lad in North Berwick, convicted of assault in 1889 and charged with Breach of the Peace the following year. He began as a caddy and was then awarded a professional licence for the West Links.

The AGM of the Ecclesham club in Shropshire apparently decided they would secure the services of Davie Grant for the next season but perhaps they never thought to ask him.The previous professional, Challoner, did leave in 1900 but I can find no record of a replacement.

In 1902 he went to the Maloja club in Switzerland for a short spell in the employ of the Majola Palace Hotel. It was announced in April 1903 that he had been appointed professional to the Dinard club in Ille-et-Vilaine but, like Eccleshall, I have seen no evidence he was there. He spent some time at Bad Nauheim in Germany in 1904 and with his brother, Arthur, at Biarritz in 1907 and 1908.

He served with the Royal Army Medical Corps in WWI and died of pneumonia in Marseilles where he arrived dangerously ill on the way home from Mesopotamia.

He played in the Open Championship eight times between 1901 and 1912.

Search the catalogue for clubs by this maker